Welcome to Grindelstudio Hamburg

The Grindelstudio was founded in August, 2000. The location at that time was the Grindelberg in Hamburg-Rotherbaum, very near the NDR radio in the Rothenbaumchaussee. Hence, the name also comes.
Since end of 2007 the studio is in bigger rooms in Bellealliancestrasse near the Christuskirche in Hamburg-Eimsbüttel. With the public local traffic it very feels well to reach, only just 100 m away from the subway station Christuskirche.
Also on the week-end the studio is taken when required for you, also by night hours. A parking place mostly exists.
The Grindelstudio offers, even at short notice, amongst other services: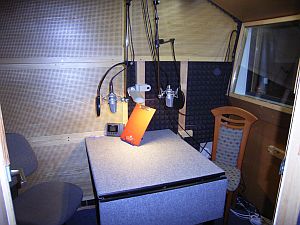 Conference connections using ISDN-Codec
Production of features, audio books etc.
Postproduction, Mastering

Demo CDs for announcers, actors or musicians
Original Sound editing with subsequent replication via Upload/Filetransfer
Copying of studio tapes, shellac or vinyl records, or MD's, DAT, cassettes to CD, wav or MP3 or to cassette

Recording of telephone interviews
Advice and service for choosing technical equipment
Video recording of your event, including editing and Menus on DVD
Computer service and repair, hard- and software advice, PC emergency service
Homepage construction through partner companies
Amplification of small events, i.e. society meetings, including recording on CD